The puppies are definitely becoming more active as each day goes by.  They are playing more frequently and the sleeping pattern is changing.
I have given them some toys to play with or snuggle up to.  It has been wonderful to watch them playing with the toys.  They are also very tactile with each other, nibbling each others noses and tails.  They do have their deciduous teeth (first set of baby teeth) now, so it can become a little painful for the recipient! They will soon start to learn how to read the other puppies signals.  This all takes time to learn as it is all about body language and clearly they won't be looking for the signals just yet.
The puppy weaning is going well and most of them are tucking into the liquid food immediately.  A couple are taking a little while getting used to the idea.  It can sometimes be hard for them to learn how to lap as they are so used to sucking.  Mainly because Maggie's milk has been so good.
I have been giving Maggie a lot of supplements during this time of feeding the puppies as I am trying to avoid.  Maggie has nutriplus gel, calcium supplements and some cheese along with her usual dog food.  I have just started to give her coconut powder…… first time I have given this supplement and I think there is a "teenie" chance I have over done it as Maggie's coat has gone incredibly shiny!  (I have only given it three times so will reduce the quantity!).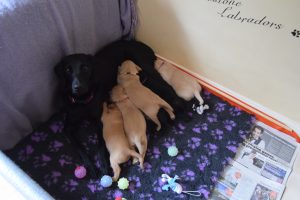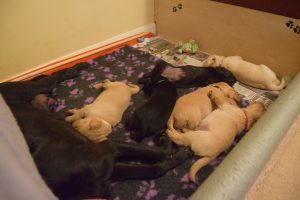 Photos have been added to the gallery.
Plotting to escape! (I have my eye on Miss Pink and will be betting she is the first to pop out of the puppy pot!)