Molly
Port Bridge Bell of Marchstone
24th February 2007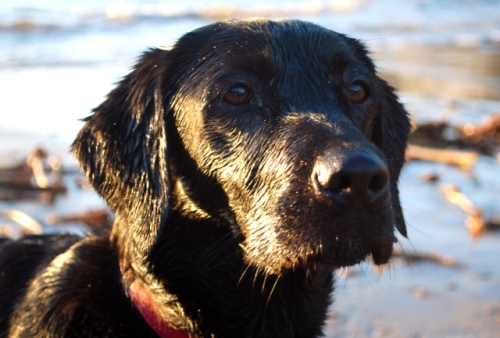 Health Tests
Hip Score 3:5
BVA Eye Certificate "Unaffected" Current January 2013.
DNA Optigen PRA Clear
DNA CNM Clear
Molly has been spayed so no further litters with our lovely girl.
Molly is a very soft and affectionate dog.  In the house all she desires is a cuddle or a sleep.  When on a walk Molly is very athletic, her agility and competitive streak is breath taking when retrieving a ball.  Molly's pedigree is all working strain.  Molly does have a keen nose and is very driven at tracking a ball seemingly lost in the undergrowth.  Molly had her first litter with Archie in June 2009 and was an excellent mother to her litter of 8 puppies.  This little girl has taken a very special hold of our lives.
Molly gave us four litters of puppies and is now retiring to a life of sofa surfing, cuddles and walks.  Molly is a good grandmother to Maggie's puppies.  Her experience with puppies puts her in good stead as she is very much old school with the young ones.  (In complete contrast to her daughter Maggie who is a "Modern" Mum!).
Countryways Strong
Willow of Stagshead
Strong Blabe
Gorin Teal
Highwalk Claire
Carolhill Helena
of Countryways
FT CH Millbuies Magnum
of Drakeshead

Carolhill Courtney
Rafik of the River
Waddeton Jet
Tibea Cid
Cape Penelope
Walkabout Black Kite
FT CH Birdbrook Aston
of Bellever

Walkabout Dipper