Melvin
Marchstone Majestic Melv
9th March 2011
Health Tests
BVA Eye Test Certificate "Unaffected" January 2012
Hip Score 2:7
PRA Optigen dna tested – Carrier
Melvin is available for stud to approved "health tested" bitches only (please look at the health testing page for more information).  Please use the contact form if you would like his pedigree to be sent to you.
Melvin is a fabulous dog with an amazing temperament.  A very steady dog and a quick learner.  Melvin is everything we look for in a dog.  He is quiet indoors and great fun outdoors.  He is very calm in the house and reacts well with children, he seems to know, automatically, how to behave around young children and babies.  We have an assortment of animals in our home (cats, a rabbit, a parrot and four chickens!) and Melvin loves them all.  This dog is a great addition to the Marchstone Gang.  His biggest attribute is his athletism.  Whilst on a walk this dog will do all that it takes to retrieve the ball.  If this means leaping approx 6ft into the air and appearing to be suspended in the air whilst extending his body just that fraction more or scaling a 7ft wall this dog will do it (and more) as he is fearless and his agility is striking.  To be honest, I cannot express adequately in words just how special this boy is.  Bless him, our very first yellow boy and he is FAN-TAS-TIC!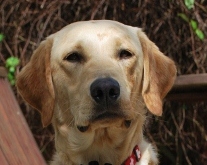 7 weeks old Melvin in the blossoms!