Links
Labrador Links:
Health Test Websites:

Health Supplements and Medical Supplies:
If you want to give your dog a treat, then I recommend deer antlers as a safe healthy option.  I buy mine from Antler Dog Chews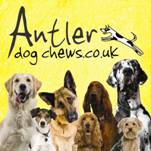 Shopping for anything labrador?  Then look here Labrador Worldwide a very personable shopping experience, friendly service!
Professional Photographer Sam – Farlap-Photography
Useful link for Labrador Coat Colours – mode of inheritance
Websites of friends who are "owned" by Labradors
Thanks to Lynda for helping me through my various decisions & her humour keeping me sane!!
Thanks to Nicola for going the extra mile, her experience and knowledge of dogs shone through when it mattered most.
In addition my thanks to Gill my website designer for being so talented and patient, please look at natural web design