The Adventures of Charlie
Part 1
This week I have been to a dog show.  I went with my family of Labradors, Molly, Archie and Stanley.  My humans came too, bringing their little girl Katherine too.
My biggest achievement of the day is gaining first place for friendliest dog.  I came second in the best condition dog, and second for best movement too!!
I also came third with my owner's friends little boy for child handling.  My owner tells me I'm such a good boy for behaving myself with someone else's child!  Katherine also got a rosette for child handling.
The other dogs did well too, Archie came first for best rescue, Molly came third with most appealing eyes and Stanley came first with best behaved puppy.  A Pets as therapy dog in the making.  I will be keeping him under my wing and teach him the tricks of the trade.  I think Stanley will make a good therapy dog.  He will enjoy the biscuits, just as I do!
During the week I have had plenty of walks, spending my time eating blackberries straight from the bushes.  What will I do when the blackberry season ends?
I have enjoyed all the biscuits….THANK YOU, Keep them coming WOOF!!!
See you soon,
Love Charlie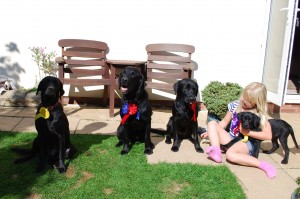 Left to right – Molly, me (Charlie), Archie and Stanley with Katherine
**********
The Adventures of Charlie
Part 2
This week I have been to Dartmoor, we have had a really long walk across the moors.  This is the time for me to relax.  I really enjoy taking in all the smells of the horses and the sheep.  (The humans have a different view on sheeps dropping – I don't understand why???).
Im still eating blackberries but I am worrying that they are few and far between now.  What will I do for food?
Don't forget the biscuits….Im pretty sure my humans forget to feed me!  (though they tell me I DO get fed a high quality diet twice a day!  I don't believe it for a minute I'm always hungry).
See you soon
Love Charlie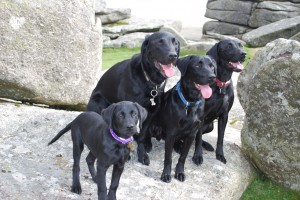 Left to right – Stanley, me (Charlie), Archie and Molly

This is me looking for Blackberries!
**********
The Adventures of Charlie
Part 3
CAUGHT in the act!  Oh the shame of it!!
I like to spend the day checking out the washing up bowl to see what scraps I can pick up.
Sometimes I will lift the plates on to the floor, to make sure they are extra clean! (but I forget to put them away!).  I will have to get Stanley in on the act!.
It was such a good way to fill up my time too.  Now what am I going to do for food?
See you soon for tea break and biscuit time…!!
WOOF!
Love Charlie
                                                                                                     (Stanley the pup)
**********
The Adventures of Charlie
Part 4
This week has been a quiet week, my master is a policeman and has to work nights so I am in charge of the house.
This does involve looking after my mistress which means to protect her I HAVE to sleep on the sofa.  Ssshhh keep it to yourself, Im not allowed on the furniture when my master is around.
Don't forget the biscuits…. WOOF!!!
See you soon
Love Charlie
**********
The Adventures of Charlie
Part 5
It is almost Christmas time, it is always a good time for lots of chocolate biscuits, though I have to be careful and consider my waistline.  My mistress tells me chocolate is not good for dogs…. Not possible?!  Its food!  Still I do trust her as she looks after me so well.  My human no longer puts treats or chocolate decorations on the tree.  I really fail to see what the problem is?  After all it only took her an hour to put the tree back up after I had licked all of the chocolate off the tree!  Its not my fault I got tangled up in the tinsel is it?
So much food around….I cant stop thinking about the biscuits…. Will be nice to see you all  WOOF!!!
Merry Christmas
See you soon
Love Charlie
**********
The Adventures of Charlie
Part 6
Well with Christmas out of the way now, I have to consider the food options.  There is still quite a lot of food around, but the humans are being quite protective of it still.
The nuts did prove a problem.  The shells… why are they in shells?  However Christmas day was quite a result for us Labradors.  Molly managed to steal the entire Turkey – it was terrific!
Am I meant to stick with tradition and have a new years resolution?  Lose weight?  NO I am in my prime!, stop stealing food??? NEVER!
I suppose I could consider eating only rich tea biscuits….. for January only though!
WOOF!!!
Happy New Year
See you soon
Love Charlie
**********
The Adventures of Charlie
Part 7
We all hope you had a lovely Christmas and want to wish you a happy new year.
My family have had a bit of a rough start to the year, we lost my pal – Max.  It has been a very sad time for my owner, so I have tried my best to look after her.  Staying close for lots of cuddles.  She has really missed her black and white "stripey" dog.
Christmas for us Labradors, can only mean one thing – Chocolate!  We did manage to snaffle some but we kept being told it was bad for us.  Now Christmas has been and gone we have to look forward to our next Chocolate feast at Easter time!
(hopefully we might get chocolates on Valentines day if my master doesn't forget!).
We have had some fun in the snow, though it has been cold.  Hope you are keeping warm and safe in this icy cold weather.
See you soon WOOF!!!
Love Charlie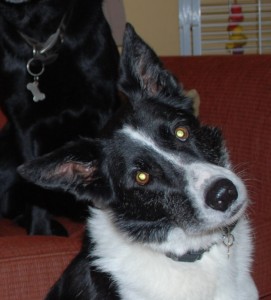 Maxie boy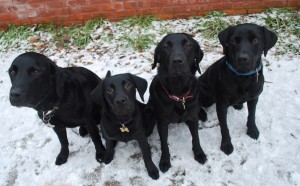 "Charlie, Stanley, Molly & Archie"
**********