My Family of Marchstone Labradors
Here are my pride and joy:-
L-R Molly, Archie, Stanley, Melvin, Maggie and Tilly.
I am so proud to have three generations of Marchstone Labradors.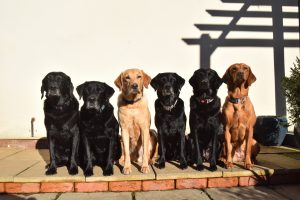 Here are the girls …
Molly, with her daughter Maggie and her granddaughter Tilly.  Molly is the head of the family, having just had a birthday she is now 12 years old and we treasure her so much.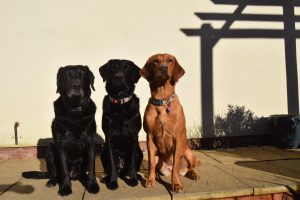 and here are the boys …
Archie, with his son Stanley, then Melvin!  I like to think of Archie as being the Daddy to all of our own family dogs – so although Molly IS the head of the family and wears the trousers so to speak, Archie is the top of the family tree too.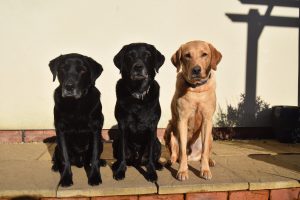 The future of Marchstone remains with Tilly  "Marchstone Matilda Amore"
Tilly is approaching 3 years old and is a loveable rogue.  I have to say this little monkey gets away with murder.  Cute, Tilly gets in your space demanding cuddles.  Tilly has to be the dog with the biggest drive out of all of the Marchstone Gang.  Keeping everything crossed for our fourth generation with Tilly.