With the lovely weather we have been having, it has enabled us to spend time with the puppies exploring the garden.  So initially they have the pen which is small enough for them to adapt to this new idea of a big wide world.  Then having got used to the size of the pen we could see they were quite keen to see a little more of the garden.  Here is a video of their time in the garden today.  Pups in the pen outside, cutie pups in the pen, pups exploring the big wide world, pups outside in the garden
Melvin has enjoyed seeing his Nieces and Nephews today, I cannot wait to see him when he can play with them properly! Here is a video of Uncle Melvin  so sweet of him.  I love this little video clip.  Melvin is such an amazing dog.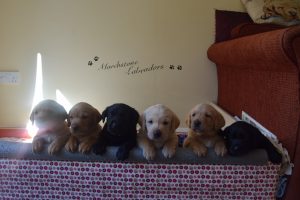 My first group photo – not totally great – I will try this again tomorrow!!
I have uploaded the photo gallery.
A couple of other video clips from today:
Miss Pink playing bitey face (this is how all pups play – not just Miss Pink!)