Weaning the puppies is something I thoroughly enjoy doing and it usually starts off with me giving them the Royal Canin Starter Mousse, which is very creamy in texture, then I move on to the starter kibble – which I give to them soaked, I put the soaked kibble in a blender and make it into a nice porridgy consistency.  Once on the "porridge" for a short period of time, I then stop blending the kibble.  I then start to reduce the softness of the kibble so they are able to have kibble without it being soaked.
All was going well until yesterday when one of the puppies decided they didn't like the soaked kibble, at all – so in my wisdom I decided to go back to giving him the mousse.  However….. this didn't really go to plan either.  So today I was armed with kibble in all different textures and consistencies, turns out the puppy was more than ready for his soaked kibble but preferred it to be simply soaked and not put through the blender!
Lovely to have a positive breakthrough with the weaning programme!  Just shows that every litter is different and the need to be flexible and think out of the box is always necessary.
The puppies are being super, Im thoroughly enjoying watching them playing.  The toilet training is also going well with them seemingly understanding the need to do their wee's outside as soon we put them out there.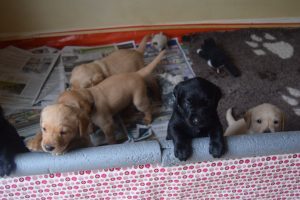 Mr Purple whispers to his Mum "Mummy….am I your favourite?"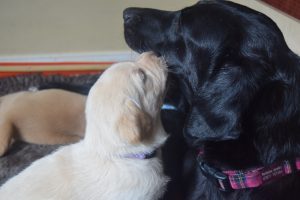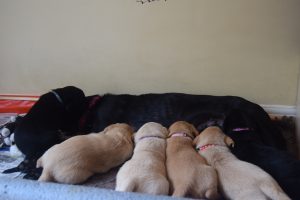 Hello there!!!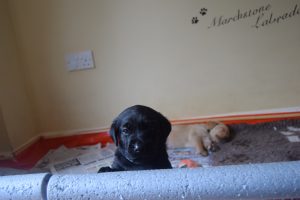 Photos have been added to the gallery