Maggie will be 7 weeks pregnant on the 17th July.  We have increased her meal rations to cope with the growing demands of pregnancy.  As yet she hasn't slowed down at all, but her tummy feels so warm in this heat!
Maggie prior to her scan!  (last ultrasound I will be doing this pregnancy – I hope).  Sitting in the ultrasound bag.  I think she prefers this method of scanning!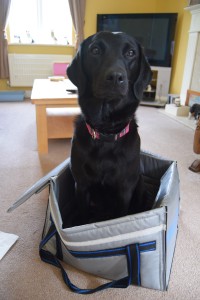 I am learning as I go with the machine – it is extremely hard to do an ultrasound without formal training.  In the top half on the right hand side is a puppy.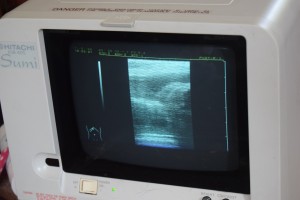 The puppies can be felt moving around in Maggie's tummy – which is the most magical feeling.  This is the start of all the wonderful things in watching the pregnancy develop prior to the puppies arrival.
If we had a magic camera to see inside Maggie's tummy we would be able to see the colour of the coat and hair also developing.  The embryo will be approximately 10cm long.
Preparations have been taking place for our impending arrivals – washing of vets bed and towels, ordering all my vital emergency equipment.  (my just in case supplies!).