I have had a busy few days – putting together my whelping kit for Maggie.  Getting everything sterilised and placing last minute orders for supplies we might need.  Labour notes at the ready.  The whelping box is going to be put up tomorrow.
All the puppy toys have been washed, with two new toys to add to the collection.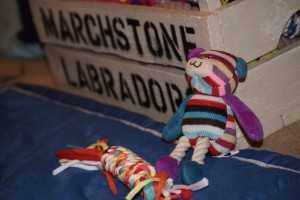 Maggie is now on puppy food (doing a slow changeover to get her used to it).  The reason for putting her on puppy food now is to give her feed of higher nutritional value as the demands of pregnancy are increasing.
Here is Maggie – looking swell!
and saving the best bit of news till last…..
Click here video This is a video of little puppies moving in Maggies tummy.