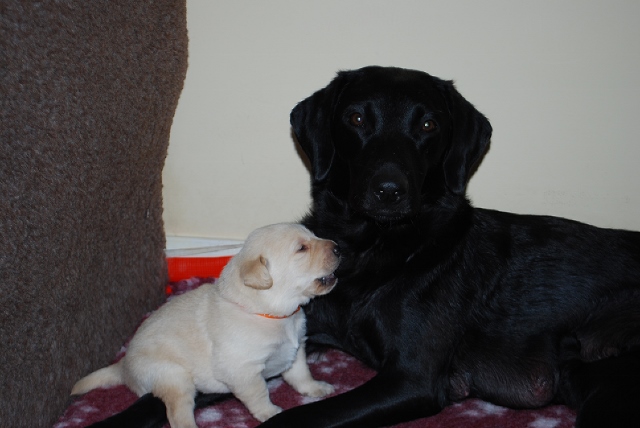 Maggie's puppies are now interacting with each other, learning how to play with each other which is so very sweet.   Im trying very hard to not fall for these little ones…..but it will happen as they are far too cute.
We have had more visitors today, a friend with her beautiful son Harry.  He was so excited to see the puppies and so very well behaved.  It was lovely to see them both.  Harry helped me find the perfect name for Mr Yellow "Baby Jake"
We have also seen another set of buyers who again, fill me with utter confidence that they will love their new addition and have the pups welfare as a high priority.  Today is there wedding anniversary so it was lovely for them to enjoy puppy cuddles.  Happy Anniversary!!!
Maggie is losing a little bit of condition in her coat, this is called a lactation moult, feeding puppies is an exhaustive role which will end up with some impact on the mother.    It is important to keep her calcium levels up to keep some balance with the needs of feeding her puppies.  Unfortunately there is little I can do to prevent her losing her beautiful coat.  We haven't experienced this before with Molly, it is something that does happen in bitches when feeding puppies so it isn't anything to be concerned about as her coat will recover in time.
I am monitoring her nutritional needs with a chart which I am constantly checking.  She is having four meals a day and over two litres of additional fluids in the way of goats milk.  She is very much enjoying being waited on, as she is given cheese and nutriplus gel whilst she is in the whelping box too.
Here are some wonderful videos – they all have the AHHHHH factor!  You have been warned there is cute overload in these videos.  Katherine has taken some lovely video clips!
Pictures have been uploaded into the gallery!