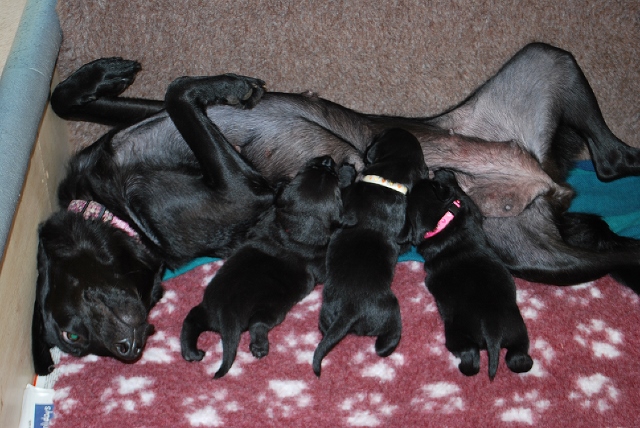 The puppies have seemed to have turned a little corner with their level of activity, going from 50:50 sleeping and eating, we are now getting periods of time where they are exploring the pen, stretching their legs – practising their new skills.
The puppies ears are starting to open up, the canal becoming more evident as the ear flap grows.
From a breeders point of view, we worry about so many things with our beloved girl being pregnant, to going through labour and how she recovers, how she copes at being a mum to worrying about every little thing about the puppies.    A big part of being a breeder is welfare and this then extends to the new owners.  A good breeder will worry about how to select their new owners from the many enquiries they receive.    It is such a comfort getting to know our new families.  Our new families are being trusted with the care of our special charges!
Today we met two more new families, who are both really lovey.  Our puppies will be very well placed within these homes.  Very exciting times ahead for them, for both "oomans" and the puppies!
Here are a couple of videos from today.
A basket full of gorgeous pupsters!!!!!! (((SWOON!!!)))