Today we have had two sets of families visit, to view the puppies.  I think our puppies will have very happy homes to go to.  They will be loved and cherished very much.
I have been making a few comparisons with this litter to Molly's puppies.  Our class of 2015 are doing incredibly well.  At the age of two weeks it is this litter who have had a puppy to break the weight barrier of over 3lbs!  (with two puppies weighing over 3lbs).
When comparing the smallest size puppies…. our Miss Pink has broken the mould!  Usually our smallest puppy, at the age of two weeks is roughly 1lb 15oz – 2lbs.  But Miss Pink has excelled and surpassed all expectations at 2lbs 7.4oz
It is such a joy to see these puppies quite literally growing before our eyes with their development totally on target.  The ears are also starting to open up – as up until now the ear canal has been sealed!
We are already a quarter of the way in on our journey – time is flying by!  We have just 6 weeks left with our pups – then chaos will soon be the theme of our day!
I have added photos to the gallery!
But for now here is the obligatory puppy belly photo!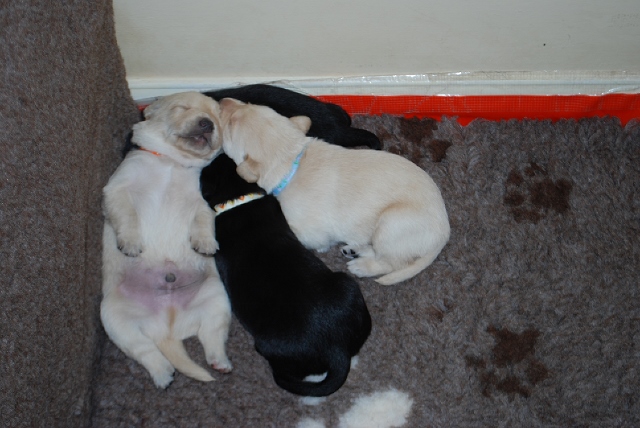 As the puppies are growing so rapidly – I will tomorrow, take my last photos of the puppies in a basket (we had an escapee from the basket this morning!) so will have to find something else to put them in for cute photos!