I was so excited to collect my parcel full of beautiful collars!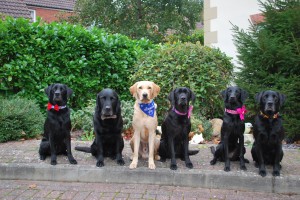 L-R – Stanley in a snoopy collar with bow tie, Charlie in tweed, SuperMelvin, Molly with lovely purple hearts, Maggie pretty in pink both girls with smashing flowers, and Archie in jellybean collar and bow tie.
I will be adding a new album showing the collars off in detail.
I am thrilled with them – the service I have been given by Tillymint Dog Designs was brilliant.  So much choice and a lot of thought has gone into each collar!
I love love love Stanleys Snoopy collar!  Charlie of course looks so distinguished in his collar!  The girls collars are so pretty and feminine.  They are all perfect.  I think I may need to order some more bow ties for Archie (some different colours, one for every day of the week! LOL!)
Take a look at the Tillymint Photos