Well we now have just the one puppy, Maggie, as Poppy went to her new home yesterday.
Im really pleased to have had reports that Poppy has settled into the new home with 100% ease.  She slept all night with any cries at all AND…. the owners EVEN set their alarm to feed her at 6am!!! WOW!  This is SO impressive!
Thank you so much to Poppy's owners – Nikki, Dave and of course Thomas, for taking special care of Poppy, it makes it that much easier for me knowing she is in a fantastic home.
Thank you for all of the presents – Maggie has been very spoilt with her new toys!  The tyre is fabulous and I think alongside the duck is Maggie's favourite!   Maggie loves to chase the tyre as it rolls along!  (very funny to watch!)
"Thank you Auntie Nikkie for my toys! woof woof" Maggie.
Katherine was also treated to some lovely gifts – so we have all been spoilt.  Lovely thoughtful presents.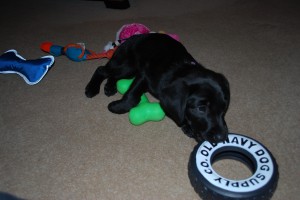 Below is a picture of Maggie with a toy I bought – I have named it Pink Schmoo Lucky Legs!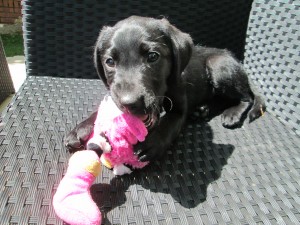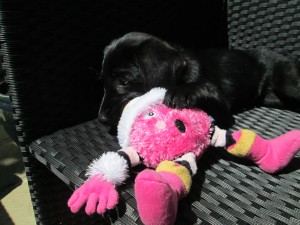 Last cuddle with Mum before Poppy went to her new home.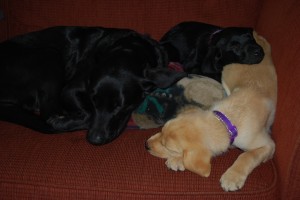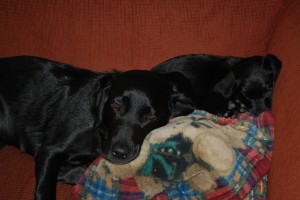 Maggie this evening sleeping with her Mummy! (and teddy)!