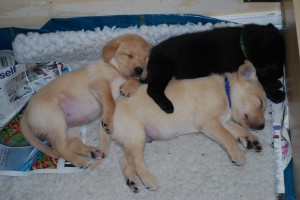 I have managed to get a few videos today.  Melvin has been playing with the puppies.  He is very gentle but they are a little unsure of him!
I simply love the video with Peaches pawing at Melvin's nose and him giving her kisses!
Melvin loves playing with the kids!
Playtime, featuring Melvin looking after the kids
I have added photos to the puppies gallery.
Despite the weather being so horrid, the little pups are doing really well with regard their toilet training.
We are getting the majority of the poos outside now and quite a lot of the wees too!!
GOOD PUPS!!