Im delighted to be posting, our sweet girl is in pup!  The scan was done today at four weeks plus 1 day.  Hopefully we will have the pitter patter of healthy paddy paws in five weeks time.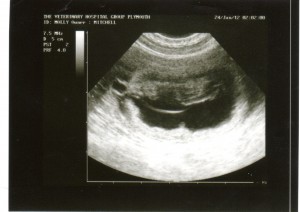 Molly is still very lame and will be xrayed tomorrow – so obviously it is of great importance that Molly's health is regained as quickly as possible.
Please keep dipping into the diary as I will be updating with snippets of information on how the puppies develop in the womb and also photos of Molly's tummy.