To update from yesterday, the puppies had a clean and dry pen overnight!  Even with the weather being awful during the day I still managed to get most wees outside.
This morning the pen was not so good – but at least we have made some progress and it should come together.   I do have a couple of puppies who have asked to go out so this is a good sign too.  We have had the puppies in the lounge for playtime and as soon as any start to show signs of needing a wee they all go straight out.  Touchwood our timing has been good so far.
I have lots of videos of the puppies….. not naming names or anything but the owner of Mr Blue may well want to remove ALL socks from their household.
The latest development with the puppies is more with how I have had to grow with them.  As usual the step and slide, shuffle slide walk has to make a feature – well I started the step and slide today – the little monkeys are moving so fast and with six of them it is a worry as you might step on them.
Mr Blue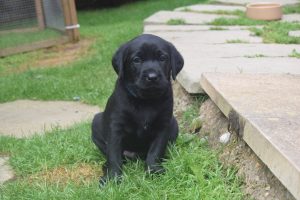 Miss Yellow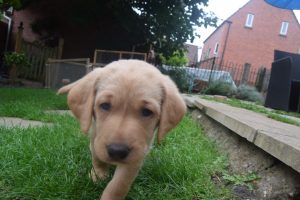 Miss Lilac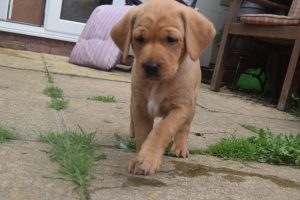 Mr Purple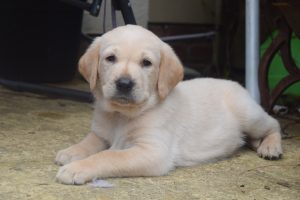 Mr Red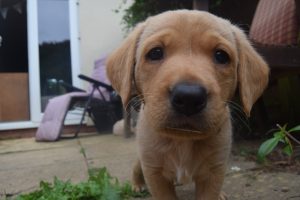 Video featuring a galloping puppy
Miss Lilac with a plastic bottle
Mr Blue and Miss Pink playing bitey face
oh oh I can't move, something has got my tail
Mr Blue loves playing with socks
playful puppies featuring Miss Pink showing off her dressage skills 
Maggie playing with her puppies
Maggie with her pups (and a swimming Miss Lilac!)
Maggie spending time with her pups
A few of my favourite photos….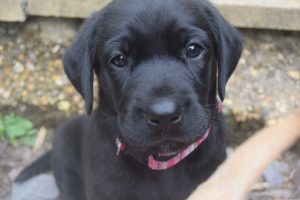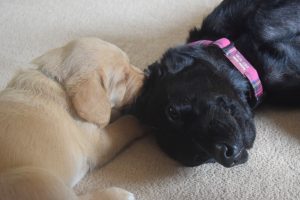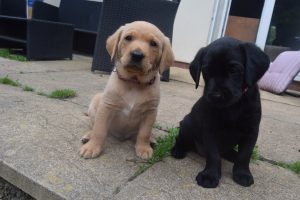 then a photo (below) to make me feel guilty.  I was giving the puppies some warm goats milk.  Maggie wasn't in the pen at this point, as I finished pouring it into the bowls I turn around to find Maggie in the pen looking at me…. as if to say… "THAT… is MY job" oh dear.  Just trying to help you Maggie Moo! (Maggie has finally put a tiny amount of weight on – at least it is a start, the sardines plus everything else must be helping).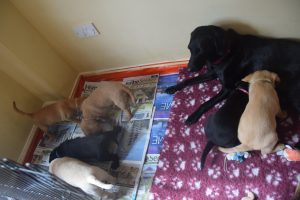 Photos will be added to the gallery later on 🙂