The puppies turned three weeks old yesterday and it marked the day for them to start having puppy food!
The puppies enjoyed their first taste of food and took to it like a duck does to water – but like a labrador to food!
Here are some photos of them tucking into a little bit of puppy food.
Miss Pink
Mr Red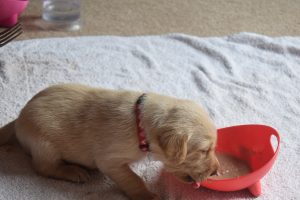 Miss Yellow
Mr Purple (needed a tiny bit of encouragement!)
Mr Blue
Miss Pink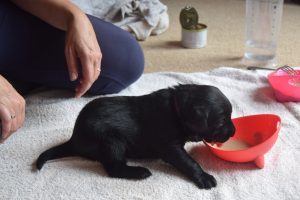 Some videos from yesterday:
Mr Blue loves him Mum (featuring a role poly puppy).
Today is worming day – so another busy day at Marchstone!
Im having a few technological issues with my pc – namely memory (too many photos!) so I was unable to download my photos yesterday which is why I was unable to do a puppy diary update.  I need to delete photos (agh – never a good job!)  this has taken me over an hour to sort out so far! eek!