Today I had to clip the puppies claws – I was hoping to wait until Katherine was home to help me however I managed to do it without to much of a problem.  I waited for them to be fast asleep then I snuck in!    It all went well.  As they grow bigger it will be important to ensure that claw clipping is always a positive experience – so they will be used to having their paws handled regularly.  When clipping the claws we only ever trim the tip as at this stage it would be relatively easy to cut the quick.
It is important for Maggie's sake to keep the claws nice and trim so they don't claw her tummy.  The puppies claws had started to hook over as they had grown so much. (they were not hooked yesterday).  The fact they are growing so well is a good indication that everything is going well with the puppies!
One of the best things about puppies?……..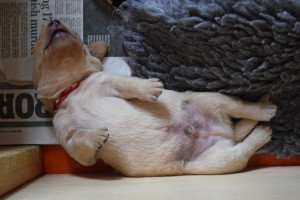 Puppy bellies needing raspberries blown on them!!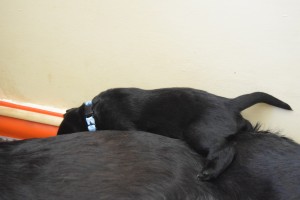 Mr Blue – climbing Mount Maggie!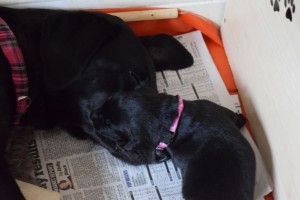 Miss Pink adoring her Mummy!
Photos will be added to the photo gallery