We have had quite a day!
Maggie started early labour signs last night which stayed relatively low key, until this morning.  The panting really got going, along with some episodes of being sick (which is common in labour).  Although there was a lot of panting there was a lack of proper contractions, I examined Maggie twice throughout the morning and with no evidence of a puppy being stuck I made the decision to consult the vet for advice.  This resulted in us going in at midday.  By the time i arrived at the vets Maggie had a greenish discharge which is a danger signal in a whelping.  She was given an injection of oxytocin and calcium, with the plan being to return Maggie at 2.30 for a c-section if nothing happened in the meantime.
This is entirely the time I question myself as a breeder, why oh why did I put my beautiful girl at risk, so even with the experience I have (six litters of my own and managing somebody else whelp so a total of 7 whelps) I still have a wobble.  Breeding is definitely not for the fainthearted.
I drove home, via jennycliffe car park – which is my car park of choice to do a bumpy circuits to help jiggle things along.  By 12.45 we had the arrival of the first puppy – a black boy born in the back of the car! (how many pups have been born at Jennycliffe now I wonder?!!)  I felt so relieved he was alive as I had totally convinced myself that we would be experiencing something we haven't had to deal with before at Marchstone.  I burst into tears with great relief.
I got home just before 1pm, within five minutes we had the next puppy!  a dark yellow girl.
The third puppy was born at 1.20pm a black bitch.
Then at 1.58pm Maggie had another yellow girl – a dark yellow.  I feel she is likely to remain a dark yellow – but could darken and *might* be a fox red.  At this stage I do believe she is a beautiful dark yellow.  The darkest we have had at Marchstone.
Then came the boys! at 2.17pm a yellow boy (the biggest in the litter), then another yellow boy at 3pm.
The final tally: 6 healthy puppies
1 Black Dog  14.9oz
2 Yellow Dog's  1lb 2oz & 13.9 oz
1 Black Bitch 12.6oz
2 Yellow Bitches 11.5oz & 12.6oz
Here are a few photos :-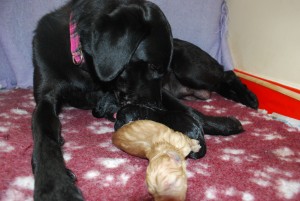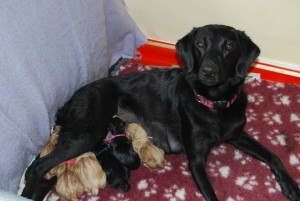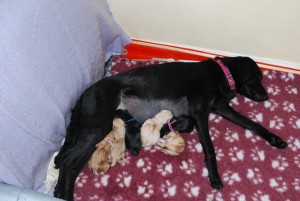 This is our first whelping that has required veterinary assistance and I know just how lucky we have been.  We have six healthy puppies and a healthy mum too.  All my fears dissolved as soon as the first born arrived! (Black boy!).
The puppies are feeding well so nothing obvious to worry about.
They pups are captivating time wasters and are gorgeous! Im signing off to have a little nap so I can keep an eye on Maggie and her puppies during the night.
(I have taken a couple of little videos – will upload tomorrow).