Before I do the March birthdays, I must wish my Molly a happy birthday, 24th February – she is now 6 years old, we bought her some lovely chewies to share with the gang, but just forgot to update the website! oops!
It is the start of Crufts tomorrow.  With gundog day being Sunday the 9th March – which is also the Best in Show and MORE importantly Melvin's birthday and his siblings!.
Sam, Melvin, Bunty, Amber, Summer, Rocky, Marley and Tess are all now three years old!
I am so lucky I do still get photos of my babies and they are developing so well into lovely young adult dogs!
Happy Birthday to the class of 2011
It is also Maggies Birthday coming up – 11th March!  I cannot believe we were waiting for our puppies to arrive this time last year.  I was so lucky to get the choice between three black girls.
Here is a family photograph taken recently.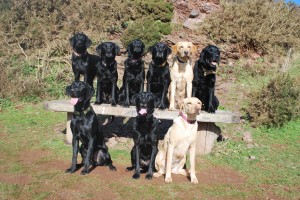 With Maggie, Stanley, Molly, Archie, Melvin and Charlie on the bench, then Maverick, Holly and Bunty in front of the bench.  (at Wembury Point)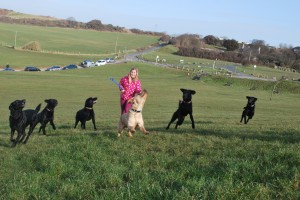 Melvin and the gang in action!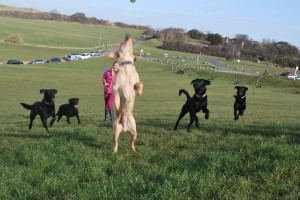 Melvin the Tiggeretriever!  He loves to fly!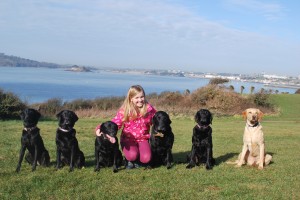 Katherine's 12th Birthday with her woofs!  Happy Birthday!!