I am so pleased that we have had another day of fun with the dogs.  We took Molly, Melvin and Maggie to a dog show held at the Donkey Sanctuary nr Ivybridge.  a very well run show with a lot of fun classes to take part in.  We had such a good time and I hope the donkey sanctuary made a lot of money today!
Maggie:- 4th for best puppy, 2nd for prettiest bitch, 3rd for clean bowl challenge, 4th for fastest to eat a bonio.
Melvin:- 1st for handsome dog, 2nd for clean bowl challenge, 3rd for fastest to eat a bonio, Special prize in the lucky dip class (dog most like its owner).
BEST IN SHOW – MELVIN!!
So pleased that Melvin got best in show as we do think he is the best boy in Plymouth! if not Devon! 😉
We also took part in the scurry which was the first time our dogs have actually handled a dummy.  Melvin did retrieve the dummy (once he knew he was allowed to play with it!)  and enjoyed himself.  We also took part in the agility.  Katherine ran Melvin with a time of 30.6 seconds, I also ran with Molly.  I don't know my time!!! (funny that!!!)  The agility was great fun.
Melvin and Katherine in action
A thoroughly enjoyable day where we also got to see the donkeys and give them a cuddle.
The day finished with Katherine having her photo taken for the local paper, with Molly, Maggie and Melvin!  Im so proud of all of them!
The highlight was the clean bowl challenge – all the dogs thoroughly enjoyed racing along to the bowls – making sure it was empty and charging up to the next bowl.  (2 sausages in each bowl – five bowls!) They had to eat every sausage in the bowl and race back again!!!!   Of course this event is something the labradors will be incredibly good at though we did not take part in the "temptation alley" class! No surprises there!  (the dog that came first was also a Labrador, with Melvin in second and Maggie third!).  Funnily enough we also enjoyed the spirit of the event for the fastest eating bonio contest!!!  It was good competitive fun!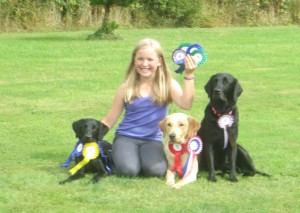 Team Marchstone – WELL DONE
So that Stanley didn't feel left out we took him up to see Smokey.  We did some obedience and agility training.  Stanley loves it!  Stanley in action.