Yesterday we had a fantastic time at a dog show.  We came home with 11 rosettes.  Our triumph was in taking home RESERVE BEST IN SHOW with our little Maggie.  This was only her second dog show!
It is always nice to win the odd rosette and I do confess to feeling very pleased when I get a red…but never do I hope to achieve anything as high as a Reserve Best in Show!  This is now the second time in all my dog owning/dog showing days that I have had a such an esteemed rosette! (though the first time was BEST in SHOW!).
Here are the team with some rosettes!!! <GRIN>
and here is the wonderful Maggin the Moo with her special "RESERVE" Best in Show Rosette.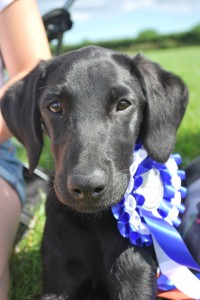 She isn't phased by her success!!! Here is a photo of Katherine with Maggie who is clearly thrilled to bits at their win!!!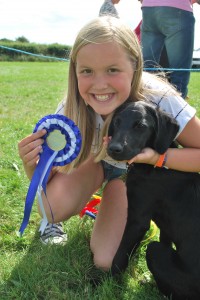 So proud of my dogs doing so well. I need to get a bigger noticeboard for my rosettes now!
We are attending Agility on Friday.  We did join a club two weeks ago, they were not very child friendly so…. we will travel further afield so we can enjoy the agility club.  I do feel the point in learning how to do agility is the instructors actually TEACHING us what to do, rather than simply telling us we have got it wrong all the time !! oh dear…..its meant to be fun not something to make us feel small!  Such is the doggy world sometimes! onwards and upwards!
The pups are of course now five months old – with Maggie winning her reserve on her five month birthday!
I have been so lucky to receive such regular contact with all the puppies!  Who all seem to be doing very well!
Just a small reminder that the pups are due worming at 5mths, then 6mths.  After this you can choose to worm every 3 – 6mths.
PLEASE also be aware Kennel Cough is around the local area of Plymouth.  So if you are in this area, don't forget to ask your vet about vaccines.