Harry, Stanley, Holly, Ruby, Tango, Sunni-Jim, Megan and Murphy are FOUR years old today!!!!  Hope you have all had a lovely day.  It is so hard to believe that it all started in the late hours of the evening of the 30th June 2009!  I had spent an entire week convinced that Molly was about to have her precious puppies so was very relieved when the puppies arrived safe and sound.
Stanley enjoyed two new toys and antler chews for all of his family.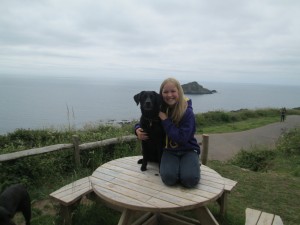 Here's the gang (L-R) Molly, Bunty, Archie, Melvin, Stanley and Charlie with the pups at the front – Maverick and Maggie.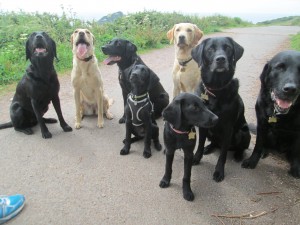 We had a lovely time walking at Wembury Point.  All the dogs had a lovely swim!
Here are a few video clips
Yesterday we went to a dog show and had a lovely time!
Maggie came second for best behaved puppy.
Katherine came second for child handling with Stanley.
Thomas came third for child handling with Maverick
Katherine and Stanley were placed third for best trick.  I felt very proud of them as the trick went very well.  (round you go spin, and also a sit stay, throwing the ball at a small distance to leave the ball until commanded to retrieve).
Maggie and Maverick came fourth for Most appealing eyes!
It is always nice to come home with lots of rosettes!
Katherine with Maggie
Thomas with Maverick