Here is a picture of our little Molly girl with her splint.  The splint is due to be re-dressed on Wednesday when she will be five weeks pregnant.  So we have a little over four weeks until our puppies arrive.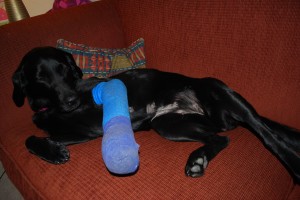 Her tummy is slightly swollen.  Molly is very well in herself apart from the obvious problems with her leg, she is still a happy girl.   
I have just ordered all the supplies I need, for the "just in case" scenario.  I hopefully wont need most of it.  So preparations are well underway for our new arrivals.
The puppies development so far:
At 3 weeks.  The embryo's will be approximately half a centimetre long.
We have just passed the 4 week stage.  At 4 weeks, buds representing the limbs to the pup will now be visible and the embryo will have grown four times its size at 3 weeks, so will now be 2cms long!  That is an amazing amount of growing in such a short amount of time!
We are now between 4 and 5 weeks – so I will post again to inform you of the developmental stage at 5 weeks!