I am very pleased to be making my first diary entry with some wonderful news.  Molly has been keeping us guessing, keeping her little secret.  Her stomach had felt slightly more thickened than usual and her teats were slightly enlarged.  Her behaviour led us to believe that the mating had been a success as she has been very protective of her food for the last couple of weeks.  Our boys have had their toys stolen from them and bones whisked away without further ado.  If Molly wanted the bones, they just let her take them!   So in effort to stop wondering and guessing IS SHE/ISN'T SHE? we have just had Molly scanned, 28 days post mating.  Her secret is now out … as she IS expecting pups !!!!
It is a very exciting moment to see the little heartbeats on the screen, amazing to see these little "sacs" of life on the monitor <GRIN>  All systems go for making plans for our new arrivals!!
Please keep an eye on this diary for updates of Mollys progress throughout her pregnancy.
Congratulations to Molly and Booza!
It is an understatement to say we are delighted!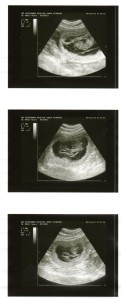 If you click on the picture – the top photo you can see the shape of the foetus quite clearly. 
Heidi :0)